Maib is honored to announce the successful completion of the first edition of the internship program "Stagii de practică cu renumerare". For six months, 20 young people from local universities worked in various in maib's various departments, learning about banking. 12 of them are already employed opting for a career with maib, the leading bank in Moldova.
During the internship, participants had flexibility, mentoring, multiple training sessions, and worked on group projects, developing banking product ideas.
At the end of the program, graduates attended an awards ceremony, where the projects they worked on in the last four months were presented and evaluated by banking experts. Students were awarded participation certificates and store vouchers for creativity, innovative approach, and young people who joined the bank received a "welcome kit" from the team.
The team made up of Luminița Grecu, Cătălina Tulum, Oxana Casian, Roxana Purice and Adriana Stamate ranked first. Girls gained the praise of the jury by presenting a digital product that connected deposits with electronic money wallet. The project was submitted to the Bank's Management Board and could be implemented in the near future.
Adriana is already an employee of maib, within the operations department, and has only words of praise about her experience during the internship.
"Maib internship was an unforgettable experience, my first career milestone. Here I had the opportunity to combine theory with practice. I met interesting people and learned interesting things. From mentors and colleagues I received all the necessary training and support, which allowed me to understand what it means to work at the bank. I am very excited and happy to be part of maib team. I recommend young people to apply for an internship program. I want to tell them not to be afraid, to gain experience now, to make mistakes, and to learn from them".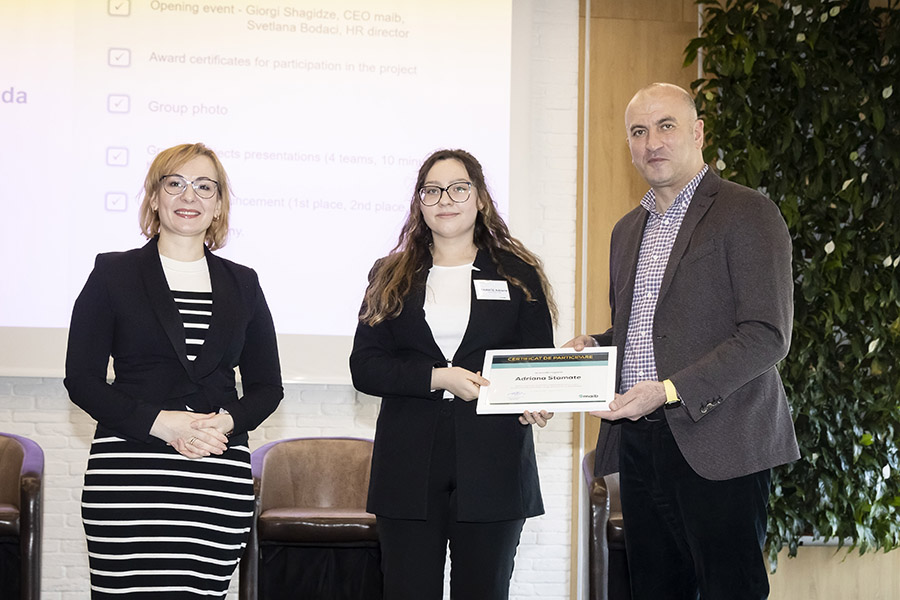 Cristina Zaltur, Ecaterina Dohotaru, Corina Țuțuianu, Doina Ursache, and Adelina Ciubotaru, who developed a product in the deposit segment, ranked second in the contest.
Elizaveta Crudu, Larisa Solomca, Lucretia Lupașcu, Daniela Caraman, and Anastasia Abramchuk ranked third with two innovative products: one for cardholders and another one related to insurance services.
Catalin Șargu and Daniel Petrache, who are already employed with the bank, proposed two projects: a unique card customization service and a digital payment option. The interns ranked fourth and were encouraged to continue developing new ideas, which could be turned into real world banking products.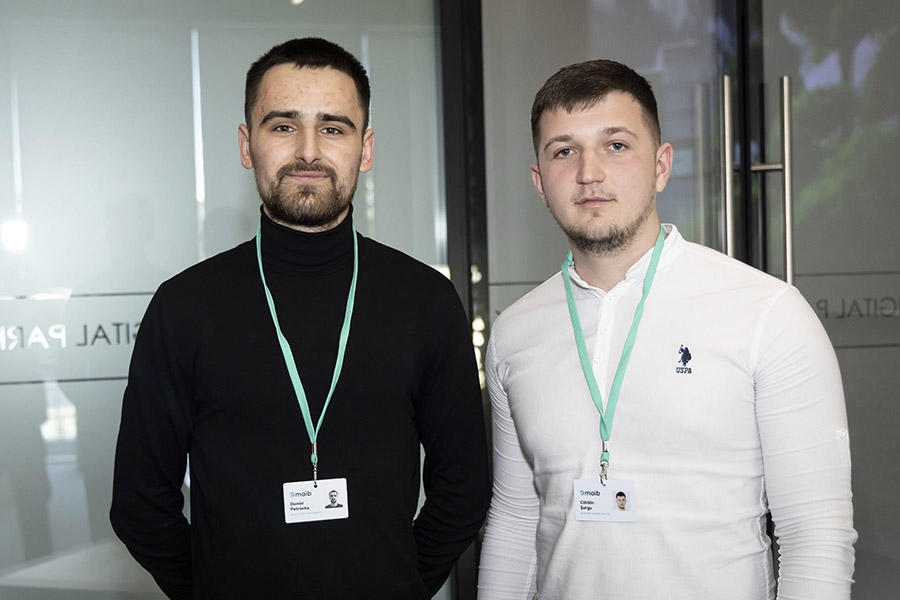 Mariana Becciv, Gheorghe Isac and Sergiu Varzari also successfully completed the internship program, gaining valuable experience from maib mentors. Throughout the internship, students have benefited from the support of the Retail Product Development Department for the development and improvement of product ideas.
Giorgi Shagidze, CEO maib, said:
"The internship program is a very important project for maib and many other editions will certainly follow. I was pleased to see ideas of products and services that can soon become a reality, and we will continue to encourage young people to work on projects by giving them all the necessary support. With 10 of the interns we are already colleagues and I am convinced that they will have valuable professional experience. We remain open to students who want to build a successful career in banking".
Svetlana Bodaci Head of the Human Resources Department, said:
"Beautiful things and successful projects are born when not everything is ideal, when doubts and questions arise. By trying to solve them you gain a unique experience and become much better at what you do. I'm glad you've chosen to start your career with maib, and I'm sure we'll make a great team together with projects and results we will talk about with pride!"
A total of 74 applicants submitted their CVs to take advantage of the opportunities of the internship program at maib. Out of these, 20 were selected based on several criteria, including academic performance and the results of the HR team interview. More information about the internship program is available on the student.maib.md.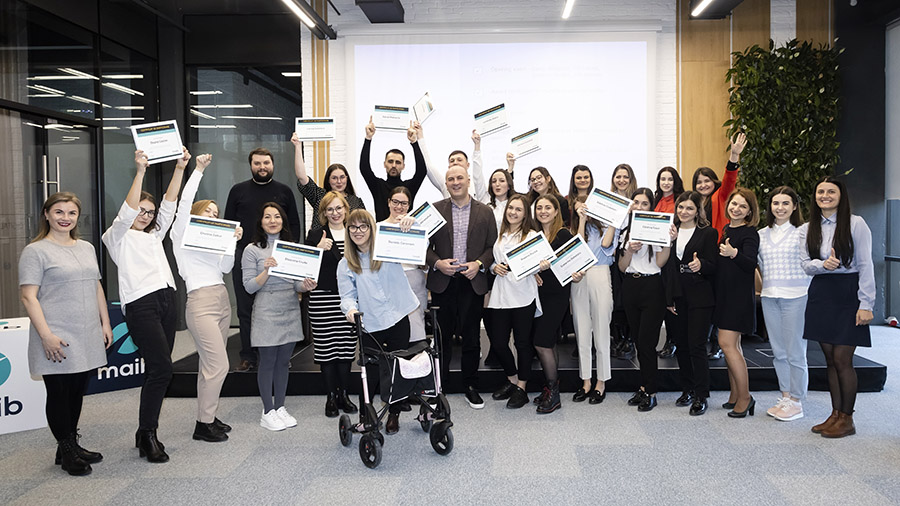 About maib
Maib, the No.1 commercial bank in Moldova, is the top employer for university graduates, according to the study "Employer brand perception and career aspirations of graduates from the Republic of Moldova". In another study maib was the top employer out of largest 12 companies as chosen by university graduates.
Human resources are one of maib priorities in its new strategy. The bank aims to increase employee loyalty, develop a corporate culture, and promote leadership and performance management. More than 2400 professionals work in maib, representing just over a quarter of the country's banking employees. On medium-term, one of the bank's goal is to keep the employees' commitment above 85%.