A year ago, maib decided to be even closer to those who want their own home, inaugurating in the heart of the capital the Mortgage Center - already over 900 families are convinced that "the most beautiful place is home".
Those who have opted for a mortgage have chosen maib for the simplified concept of 3in1-broker, agent, bank - a criterion that saves valuable time and considerable financial resources. After the customers pick the house, for 1-2 days, they already become owners with full rights, maib offering them full support not only in obtaining a mortgage loan but also in the process of carrying out the sale-purchase transaction. Thus, thanks to the team of mortgage managers, the way to get your apartment or your own house on the ground was significantly reduced.
Aliona Stratan, First Deputy Chairwoman of the Management Board maib, mentioned:
"The mortgage centre is a pride for maib because we created it the way we want everyone to feel in their own home - comfortable, pleasant, modern. By inviting customers to a coffee, we discover their preferences and find the best offers on the market. We consult them regarding the legal part of buying a home and help them complete all the necessary documents. We like to be not only a bank but a reliable partner for all the needs of our customers".
For a year, the Mortgage Centre team tested and implemented various processes to simplify and provide maximum convenience and pleasure in buying a home. For 12 months, the bank collaborated with hundreds of agents and brokers. The most advantageous offers were provided by over 60 real estate partners of the bank. Customers choose maib also because they only need a bulletin to evaluate the home, managers help them register documents with the Public Service Agency, and the icing on the cake - obtaining credit can be done remotely - online via viber skype, telegram, WhatsApp, ZOOM etc.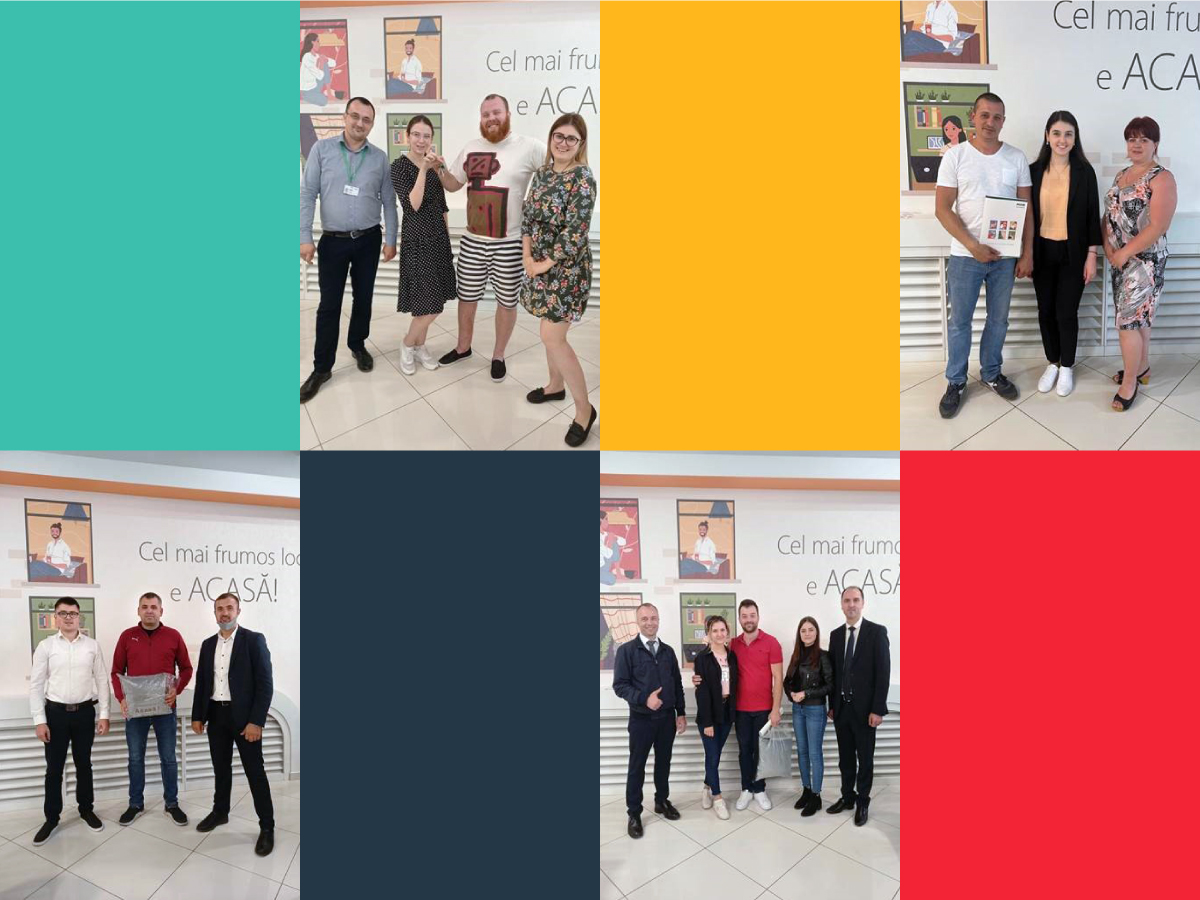 Daniela Rotaru, Mortgage Centre manager:
"We had a year full of trials, of pleasant moments. A year full of thanks and tears of joy from hundreds of customers. We consider the contribution of maib in the life of these clients a significant one, and we are glad that at their recommendation, our friends and relatives step on our doorstep and also dream of moving to their own home. We remain just as agile, friendly and professional with each guest who from now on will choose us for this important step in life".
People who apply for a mortgage are both young people aged 21-30 and people over the age of 50, because it is never too late to move into your home. The bank's customers prefer homes in new blocks of flats with an average area of ​​40-50 sqm. equipped with all the necessities for the move to be as fast and pleasant as possible, and in this sense maib always contributes with surprises. Hundreds of customers received nine gifts at home to make their home even more comfortable.
If you have also decided that you want to move into your own home but do not know what to start with, come to the maib Mortgage Centre. The bank team will help you with everything and will guide you on the steps you are going to take so that in a short time, you can arrange your new home.
Whether you work in the country or abroad, real estate loans from maib are the most convenient and advantageous solution for achieving great plans.
Choose one of the maib loans and benefit from:
up to 2,200,000 lei for a period of up to 30 years;
APR of 5.93%;
ZERO commissions;
credit approval for 1 day.
At the same time, you can always request a video consultation with maib specialists, during which you will receive answers to all questions related to buying a home.
The maib Mortgage Centre is located at 115 Vasile Alecsandri Street, and is open from Monday to Friday, between 09:00 and 17:00.
The most beautiful place is HOME!