We are proud to launch the Buiucani Branch – the first maib branch that has been transformed in line with our customer-centric brand promise, with a new operational service model and a new visual identity.
The Buiucani Branch is the first one where our new brand personality and identity have been translated into a new customer experience, where their financial needs are met and their expectations are exceeded. The innovative design of the branch aims to create an environment that provides a familiar comfortfo r the customers, being more welcoming, colorful, positive, transparent and open.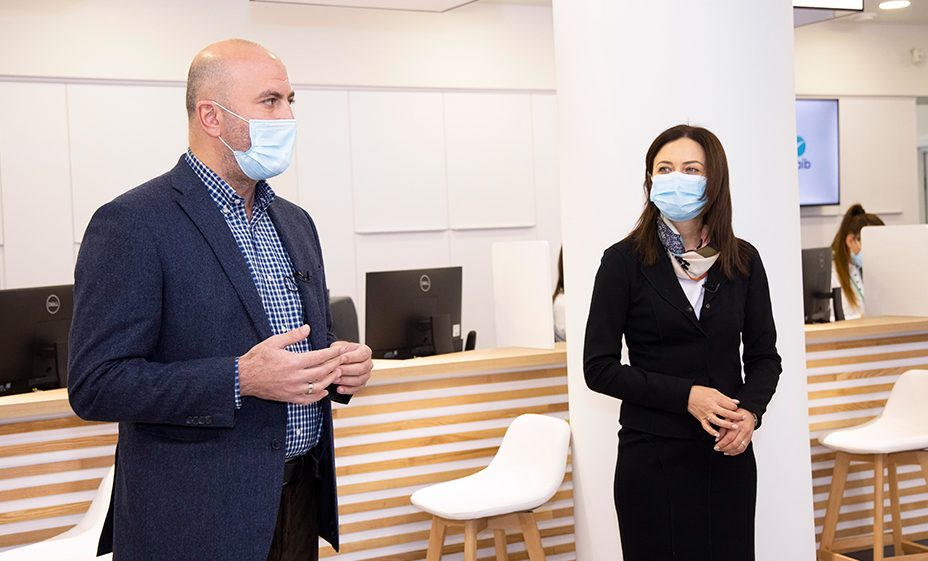 Giorgi Shagidze, CEO of maib:
"We aim to create a new experience in the branches that would reflect the maib personality and our values ​​– always customer-centric, transparent, professional, trustworthy, innovative, agile, team-spirited. Our branch network is and will continue to be the tangible part of our brand and identity for our customers. We strive to make the interaction with maib services as simple and easy as possible, no matter what our customers do and where they are."
How else do we differentiate ourselves from the other banks? Through approach, rapidity, personalized assistance. When entering the bank, each visitor will be greeted by the "Customer assistant" – the one who determines the suitable banking services according to the clients' needs, who provides support, advice and guides them to one of the 3 special areas.
Self Service Zone
This is a dedicated area for customers who want to do autonomously and quickly certain operations at the payment terminals, such as: payment of invoices, credit payment, checking the account, depositing cash in the account, etc. The customer assistant will provide support in the use of digital technologies both in the real and online environment, will guide and direct the client to the service areas according to his needs, always being by his side to create quality service experiences for each client.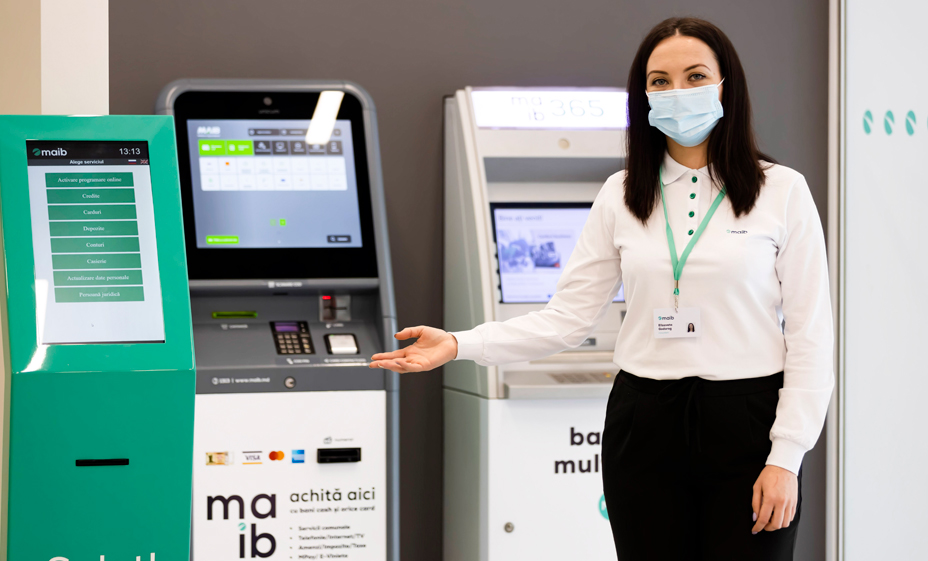 Transactional area
We focused on customer's time and satisfaction, thus moving to a new level of service – the "one-stop shop", which allows the facilitation of multiple operations at a single counter, with faster service for a wide list of operations and, therefore, saving valuable time for everyone. Other benefits would be the simplification of the operations' flow, a productive communication and the guarantee of a positive experience.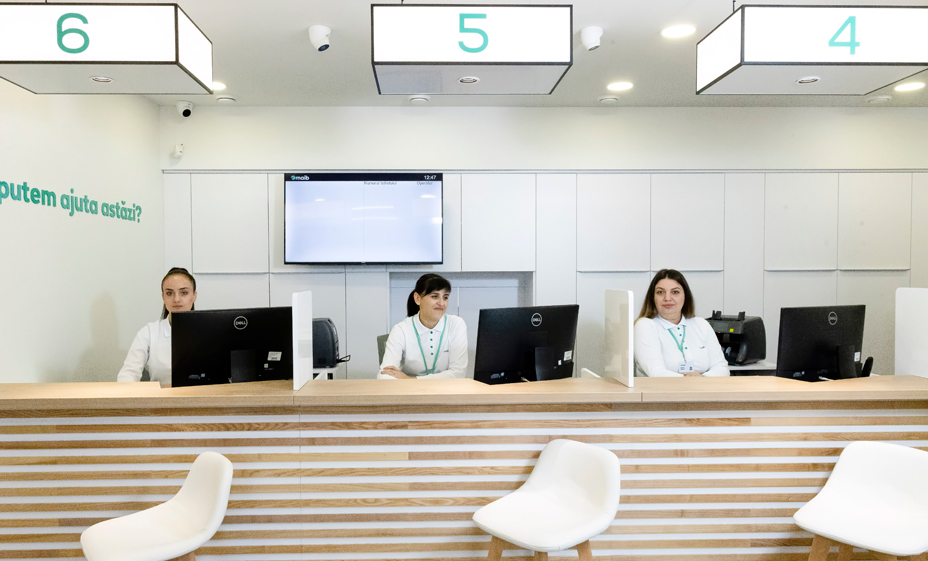 Consultation area
The consultation area, on the other hand, is a semi-private one, facilitating direct communication, analysis of needs and complex personal or business development plans, in order to be able to choose the most appropriate solutions together and help them achieve their goals. This area is more relaxing, suitable for making important decisions, such as those related to mortgages, business or similar.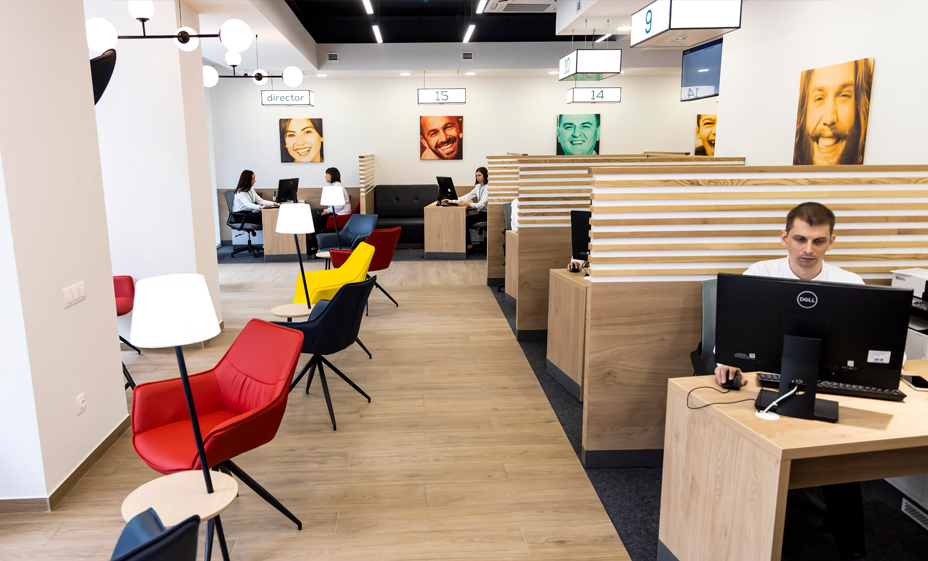 Aliona Stratan, First Vice Chairwoman of maib:
"We are certain that this new strategy will yield many positive results: a significantly reduced waiting time and functional diversification of operations, but also an increased satisfaction of maib's employees with their jobs, which is just as important to us. The new operational functionalities have our business philosophy behind, have been extracted from our customers' expectations through hundreds of surveys and have been tested for months in a series of branches, where we measured customer satisfaction daily, the results clearly proving that this was the direction in which we must continue. At this moment, the new operational model is already available at the Buiucani Branch and is being implemented throughout the network."
The implementation of the new maib strategy came from the desire of being more customer-centric, which led us to create intelligent solutions, by transforming the appearance and the operation mode of the branch.
We strive to be a life[time] bank, meaning: we will continually ensure we understand our customers' life stages, plans and long-term needs.
Our customer promise is: we are with our customers for every stage of their life.
Our people will ask questions and listen to you, then provide the right products to help you achieve your dreams.
We strive to be a life[style] bank, meaning: we will strive to always understand our customers' ambitions and desires.
Our customer promise is: we don't sell bank products, we enable our customers to live the life they want.
Customer experience: an environment that looks & feels like where they live their lives.
For more details and information about the new brand identity, visit the link.
Buiucani Branch is located in Chisinau, Ion Creanga street no. 78.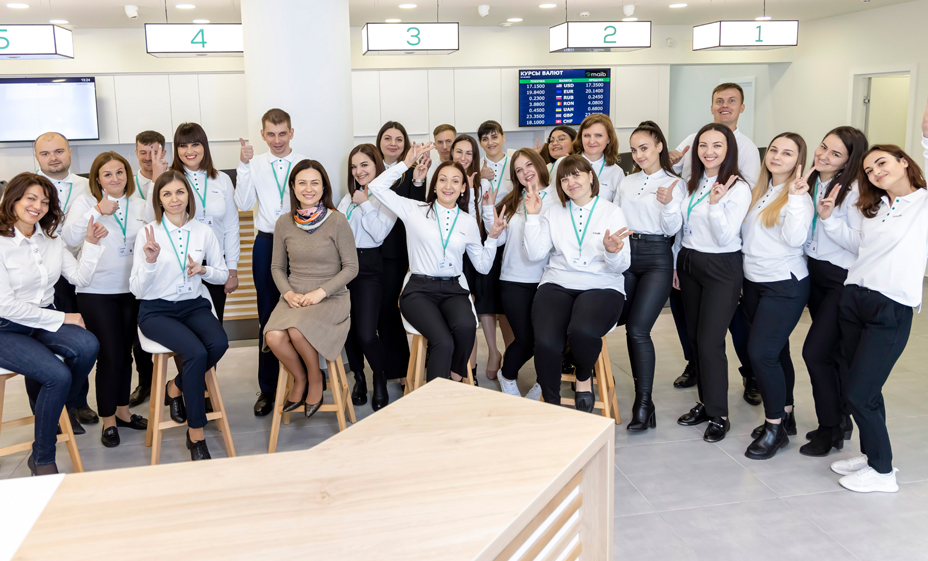 About maib
Maib is the largest bank in Moldova with 59 branches and 86 agencies throughout the country. Of these, 22 branches and 32 agencies are located in Chisinau, and 37 branches and 54 agencies are evenly distributed throughout the country. Through its vast network of branches, maib serves about one million customers – corporations, small and medium enterprises, individuals.